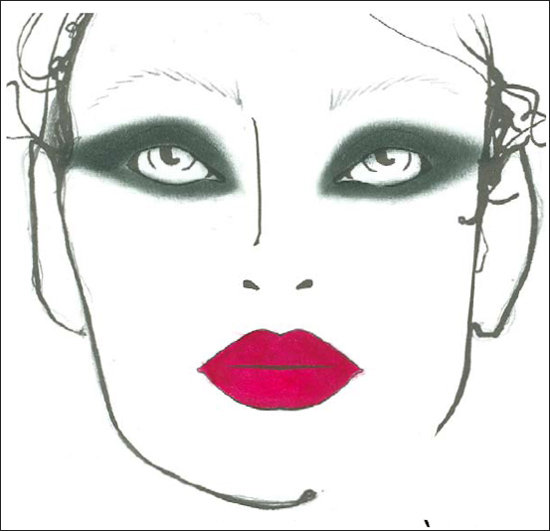 Charlotte Tilbury describes the look at L.A.M.B. as, "The feeling was 1930s prostitute–trampy, smoky eye, deep "rougeoir" lips and beautiful pale skin."
You know, it's not often that 'prostitute' is openly admitted to being an inspiration. Gee, the clothes are nice, but you know what would tie everything together? Just a smidge of whore. Not 1990s Julia Roberts Hooker With A Heart Of Gold whore, but a more classy sort of starving rabid raccoon whore. Perhaps we could have them walk to 'Money (That's What I Want)', too? Or is that too whorish? One thing's for sure–we need overdrawn red lips or we risk our models with deeper eye sockets looking like Skeletor.
So let's see it in action–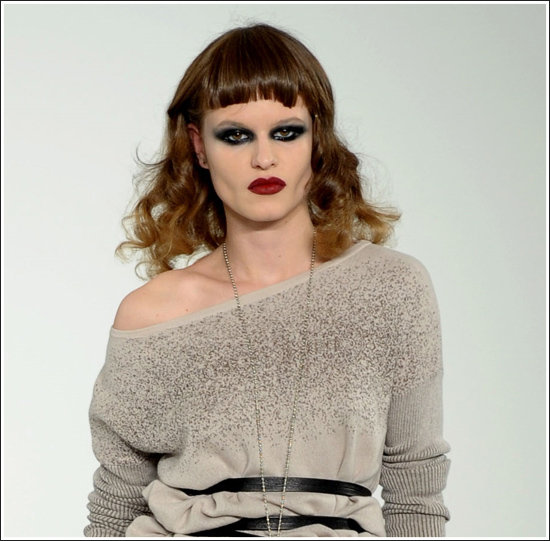 WHOA. WHOA.
I know the look you are going for, and it is NOT 1930s prostitute. It is 1975 transvestite.
I just…wow. Wow. I suppose if they wanted the clothes to look beautiful by comparison to the jacked-up things they've done to the models–horrifyingly unflattering makeup, frizzy hair…THOSE BANGS, then jolly good show, L.A.M.B.. The problem is we can't not look at a trainwreck. I look at that picture and I don't even see the clothes.