Since it's nearly 5 weeks until Elegant Swan Day, I've had to start getting serious about getting my things together. On Saturday, I went shopping for Shoes I'll Never Wear Again to go with the Dress I'll Never Wear Again, and promptly discovered that zero shoes on the market today are the correct color of cream to match the aforementioned dress. On a whim, I went into another store filled with dresses of the Never Wear Again style, and found a different one made of lighter material that is more Wisconsin-summer-heat-wedding-appropriate, in the same shade of blue, with white trim instead of cream. The clincher was that this dress will cost nearly $100 less in alterations, so even with the additional expense of the dress (marked down 80%!), I'm saving a much-needed $75. So now I own one Dress I'll Never Wear Again and one Dress I'll Never Wear And Maybe Never Even Look At Again So Hopefully My Closet Eats It.
I found a pair of white shoes immediately and was excited to be done with my shopping so quickly.
Of course, something was destined to go horribly wrong.
That something, ladies and gentlemen, was toe cleavage.
You might be asking yourself, "What in the Sam Hill is toe cleavage?"
Toe cleavage is the horrible, horrible practice of cutting the tops of shoes low enough to show the tops of your toes and the gaps inbetween. It ruins the clean look of a formal shoe and makes it appear concurrently that:
1)Your shoes don't fit properly and 2)You're ready for the beach, you rebel, you! and 3)You have toes long enough to join your simian ancestors in swinging through trees and picking bugs out of fur.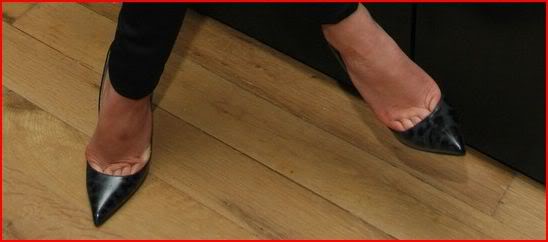 This scourge is apparently quite fashionable right now, which is a shame as it is so utterly disgusting. It must be quite a boon to the foot fetishists, but other than that, I feel confident that the rest of us can strongly band together against the nastiness which is toe cleavage. Furthermore, when I see toe cleavage, I am overwhelmed by the idea that the person wearing the shoes must inherently smell like sweaty feet, even if that is not the case.
These shoes are going back to the store with a quickness not unlike superman chasing a cheetah.
How do I know I'm right? Well, Saturday night, I went out with Amy to the Rickshaw in cute shoes that did NOT show toe, and while I was talking with Chuck outside, some guy was looking at me instead of watching where he was going, and at the exact moment he was trying to be slick and drop me a wink, he walked into a car's sideview mirror.
THAT'S how I know.